Today's Preschool Storytime was all about saying good morning to a beautiful day. To start, we talked about the sun coming up and how the weather is warm enough that we don't need our coats anymore. Then we sang our welcome song "Clap Everybody and Say Hello" from the CD Sally Go Round the Sun by Kathy Reid-Naiman. Then we talked about how it is sometimes hard to wake up in the morning and sang "Brother John."
Are you sleeping, are you sleeping
Brother John, Brother John?
Morning bells are ringing
Morning bells are ringing
Ding, dang, dong
Ding, dang, dong
Next we talked about waking up after a dream and trying to remember what happened. Which led nicely into reading Hank Has a Dream by Rebecca Dudley.
With everyone awake, we did a finger-play song with "The Itsy Bitsy Spider." I like to sub in the words "great big hairy" on the second time through for a funny ending.
The itsy bitsy spider (finger to thumb climb)
Climbed up the waterspout (finger to thumb climb)
Down came the rain (wiggle fingers downward)
And washed the spider out (wipe motion with hands across body)
Out came the sun (use arms to make circle above head)
And dried up all the rain (open arms to sides)
And the itsy bitsy spider (finger to thumb climb)
Climbed up the spout again (finger to thumb climb)
Next to celebrate the change to warmer weather we read Wake Up, It's Spring by Lisa Campbell Ernst.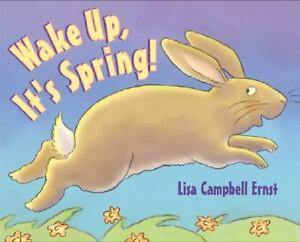 After reading about all the animals waking up, we did an action rhyme that follows the movements of different animals.
Can you hop like a rabbit?
Can you jump like a frog?
Can you waddle like a duck?
Can you run like a dog?
Can you fly like a bird?
Can you swim like a fish?
And then can you be
As still as this?
When everyone was still, I told them I needed help from a friend for the next book. My friend  was a stuffed animal rabbit that I put on my head in order to be just like the boy in A Boy and His Bunny by Sean Bryan.
After this sweet but silly story, we talked about how sometimes your day may not start out great, but if you don't give up it can still be a good day. Our last story was A Good Day by Kevin Henkes.
We finished off the main part of storytime with singing "Zip-a-Dee-Doo-Dah."
Zip-A-Dee-Doo-Dah
Zip-A-Dee-A
My oh my, what a wonderful day
Plenty of sunshine heading my way
Zip-A-Dee-Doo-Dah
Zip-A-Dee-A
Mister bluebird on my shoulder
It's the truth
It's actual
Everything is satisfactual
Zip-A-Dee-Doo-Dah
Zip-A-Dee-A
Wonderful feeling
Wonderful day
After storytime we watched All the World, an animated film based on the book by Liz Garton Scanlon.