After checking out an eBook in overdrive you often see two buttons: Download or Read (in your Browser). I wanted to give you a little more information on the Read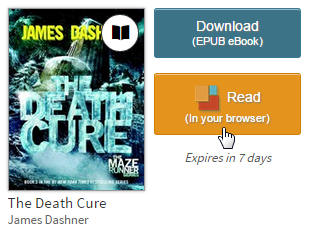 option. I'm not sure if all the titles in our collection offer this option, but most do. Essentially, this button allows you to simply start reading the eBook without having to download the book and find it in your bookshelf.   OverDrive Read has many of the same features as popular reading apps and eBook readers, like the ability to add bookmarks, search for terms, add notes and highlights, look up words, and change the font. It also offers some extra features, like fixed layout support for graphic-heavy eBooks and professional narration for some titles.

Some downsides are that this works best if you only read eBooks where you have a reliable WiFi connection.  Also there may be some compatibility issues with older browsers. However in some situations, this might be the best option. For example, if you are reading an eBook on desktop or laptop computer (as opposed to a handheld device). Or if you find the process of downloading books, navigating between the two bookshelves and returning books confusing, this might be best.
In the next tip, I'll explain about formats available from the Download button. If you want more help we have time and staff dedicated each week to answer your questions about Overdrive in Drop-In Tech Help.